my friend carissa hosts miscellany monday...and here are my random thoughts!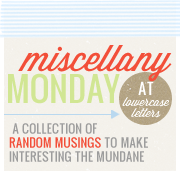 1. i love walker, texas ranger. i think i'm rubbing off on my girls b/c they love the show too! OH yeah!
2. we might be buying a health food store! we'll know more sometime this week i'm told...should be fun!
3. i should never EVER stay up til after midnight...because i still wake up at 7. nuff said.
yeah, my random is boring...but link up and prove you aren't! ;)